Ghost Canyon Unveils Issue #4 At "Unreality Fest" At Battle Creek's Barnes & Noble!
On Saturday, October 28, 2017, Ghost Canyon unveiled issue #4 at Battle Creek's Barnes & Noble's "Unreality Fest." Aaron, along with other Fantasy and Sci-Fi local authors participated in a panel discussion, a cosplay costume contest and many Ghost Canyon cast members were on site to autograph the latest issue. 
Photographs by Angie Warner, Kurt Thornton & Battle Creek Barnes & Noble
Ghost Canyon Cast & Friends Premiere Party For Issue #3 At Union City's Library
On Thursday, March 24, 2016, over 140 friends and fans came to celebrate the unveiling of Ghost Canyon's issue #3 at Union City's Township Library. Many members of the cast were on hand to autograph merchandise and prizes were given out to winners of ticket drawings and lucky spins with a roulette wheel!
Photographs by Aaron Warner, Angie Warner, David Reinke, Debbie Herman and Shannon Hoskins.
Ghost Canyon Presents "Slow West" at Historic Howell Theater!
On Saturday, June 27, 2015, Ghost Canyon met with fans, cast members of the comic book series and also picked up some new fans at Howell Theater for a special presentation of the movie feature "Slow West."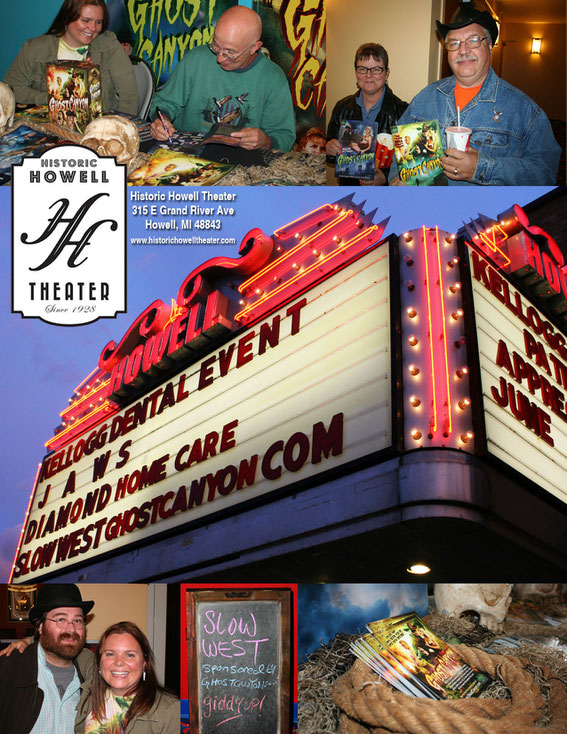 Ghost Canyon Invades Motor City Comic Con!
Evolved Comics made a HUGE impression at the packed showroom of Motor City Comic Con, May 15-17, 2015, in Detroit with a colorful display of zombies, skeletons and even a 14 foot bigger-than-life banner! A few members of the cast from Ghost Canyon even stopped by to sign autographs for new fans and participate in a panel discussion about the comic book and future documentary and reality show projects planned with Buoy 22.
Screams & Ice Creams in Nashville, Michigan!
Evolved Comics hit the streets of Nashville, Michigan to promote the debut of issue #2 of Ghost Canyon and enjoy a cool treat during the town's attempt for the Guinness Book of World Record's Longest Ice Cream Sundae on May 9, 2015.

Since he ate dessert FIRST, Zed the Zombie enjoyed meeting (not eating!) new friends and fans of Ghost Canyon comic book!

Issue #1 Premiere Night of Ghost Canyon
On Sunday, July 20, 2014, the first issue of Ghost Canyon was unveiled to the cast, crew & public for the very first time at West Columbia 7 Theater in Battle Creek, Michigan.
On site was Detroit company, Buoy 22, who documented the special evening and also shared "The Making Of Ghost Canyon"documentary, among their other upcoming projects, to 2 sold-out shows.
The cast autographed posters, comics & t-shirts, taking photographs with new fans and celebrating the new comic book series.
Photographs by Alan Herman, Penny Russell, Ken Dey, Dakotah Hoskins, Kez Settle, David Reinke, Jessica Hillman, Kurt Thornton, Buoy 22 Films, Shannon Hoskins, Jessica Carpenter and Jennifer Parks.