Creating Ghost Canyon

Inspired by a road trip out west, comic book creator Aaron Warner began feverishly sketching ideas and collecting notes for a new comic book idea capturing the creepy ghost towns and cowboy folklore that he absorbed along the way.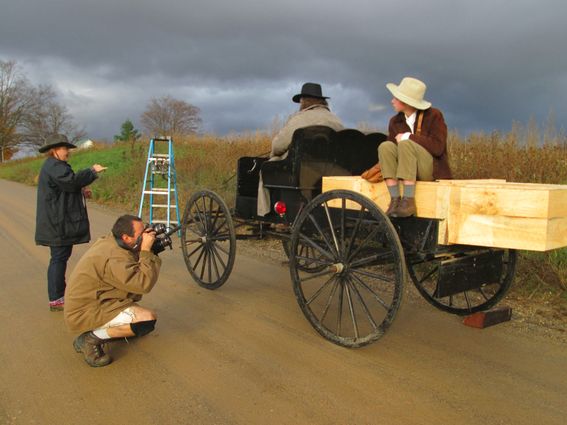 Wanting to create a more dynamic and darker look than what simple illustration could offer, Aaron reached for his camera and began setting the scene for a ten-issue series titled "Ghost Canyon."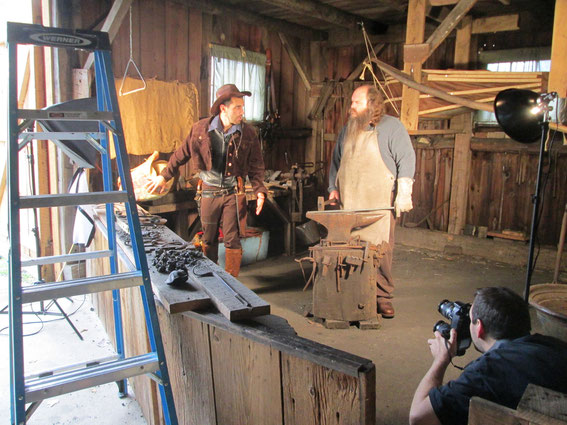 With hundreds of costumes and props, Aaron reined in a cast of over 35 local actors, 10 different locations, numerous horses, wagons and volunteers for almost a year to participate in this ground-breaking effort.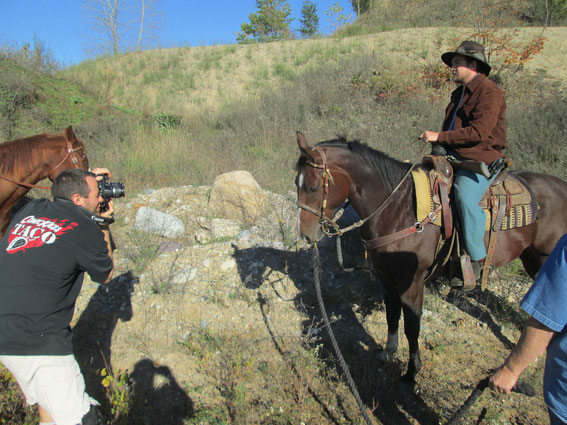 Tapping into over 25 years of comic book skills and knowledge, Aaron developed the Ghost Canyon universe with a blend of dynamic posing, dialogue, set design, photography and Photoshop.
Sometimes there would be more than one photograph that would evoke the look Aaron was trying to capture for one comic book panel. Not wanting to decide on one, he would combine all 3 into one, as seen below.
"This project turned out even better than I expected," said Aaron.
About the Creator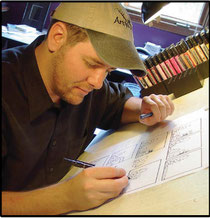 Since the sale of his first cartoon to the Boston Law Journal at the age of 17, cartoonist and comic creator AARON WARNER has created ground-breaking cartoon features for newspapers and magazines worldwide. For over ten years, the critically acclaimed and wildly popular Adventures of Aaron comic strip was read by over six million newspaper subscribers, spawning two comic book series with Image, Adventures of Aaron and Aaron Strips, which garnered a Reuben Award nomination from the National Cartoonist Society. From 2002 to 2007, Warner syndicated A College Girl Named Joe, a college-themed daily strip that became the number one downloaded comic feature through MCT Campus. Working with his wife, Angie, at their Cartoon Studios business www.cartoonstudios.com, they create features for corporate clients or individuals, and provide illustrations for other creators, including Jonathan Rand's, "Freddie Fernortner: Fearless First Grader" and Rex Haven's "Everything I Needed To Know I Learned From My Wife!" Past projects include: Married With Children: Kelly Goes to Kollege #3 (Now Comics), Bulk Comix (Chiasmus), Number One (Aazurn Publishing).
Ghost Canyon Issue #1: The Town Hell Didn't Want!
This was not the first dead body and it would not be the last since many sacrifices had been made in an arduous attempt to settle this wild, unpredictable land in a determined effort to make it livable, or at least survivable. What drove these individuals to attempt conquering the unconquerable, no matter the cost? One man had lived so devoted to his cause that while he was not the first dead body, and would not be the last, he was the first who would return.
$5 shipping per book in the U.S. Also shipping worldwide! (Please contact us for international ship rates before ordering) Full color, 32 pages.
Ghost Canyon comic book
Ghost Canyon Issue #1 Now Available on Kindle for $2.99!